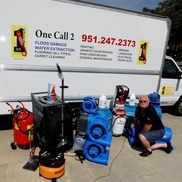 OneCall2 was started at the request of a realtor I worked with in the 1990's in the 203K market. At that time I had a retail flooring company American Carpet Surgeons. One of my general contractors asked if I could do general repairs to a house. I said yes and the next thing I knew I had a crew doing repairs from the roof to the foundation.
OneCall2 is a licensed general contractor (License# 987118). Most work is done by our team. We also have on-call subcontractors with special licenses for certain specialty projects.
OneCall2 will coordinate the perfect group of individuals for your specific project. We also offer 24-hour emergency service.
We also have the following Licenses and Certifications
California State General Building Contractors License
Fluke Thermal Imaging Certification
IICRC Certification
Custom Repair, Restoration, Remodel and
Project Management
Serving the Inland Empire since 1991
OneCall2
One Call 2 – Just one simple call and your flood or water damage repair and restoration, or project management needs are covered in Southern California. We'll source and coordinate a team – hand-picked for your project – to inspect, quote and repair your property. From project management services to specific restorations, you'll get exactly what you need to get the job done right. Certified in Mold remediation, Odors, and lead removal in Southern California! Please view our photos in Recent Projects.
We Serve The Following Areas
Colton California • Fontana California • Highland California • Loma Linda California • Rialto California • Riverside California • Redlands California • San Bernardino California •
Services We Offer

• Flood damage – IICRC# 150594
• General Contractor 987118
• Mold remediation
• Odors
• Lead paint
• Flooring: carpet, vinyl, wood, ceramic, marble
• Carpet cleaning
• General maintenance
• Lawn—curb appeal
• Tree service
• Termite and pest control
• Property Restoration
• HVAC heating/air conditioning
• Roofing
• Plumbing
• Electrical
• Painting
• Locksmith
• Trash outs